This week's Mission V6 the guys had a mission including marshmallows. Go was throwing the marshmallows to the other five members from the 7th floor.
I don't know why, but V6 + marshmallows sounded cute XD
And as Go was the one throwing, I made this: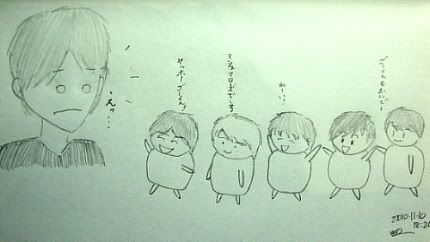 Startled Go and "The Marshmallows"! lol
Go: What...
Marsa: Hey, Go-kun!
Hiroshi: We are The Marshmallows (sorry, I couldn't think about any other name XD)
Inocchi: Yay!
Ken/Okada: Come with us!
Hiroshi is the cutest in my opinion (*___*)
*I resized the picture to post here and the quality lowered (x_o) but I hope you can see the drawing!